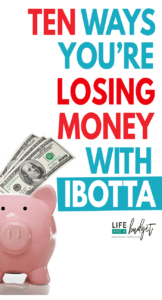 Today we're going to talk about Ibotta Bonuses: 10 Ways You're Losing Money With Ibotta (And How to Fix It)!
I'm always searching for ways to maximize my grocery budget, but I declare — I hate couponing. There are so many reasons but the main reasons are 1) I don't eat a lot of processed stuff (there seems to be an abundance of coupons for boxed and bagged items), 2) I often find that after using coupons on name-brands I just could have grabbed a generic and called it a day, and 3) extreme couponing is a lot of work!
Nevertheless, I still need something that will help me keep my grocery costs down. Luckily, we live in a time where a smartphone and an app can provide you with all the tools you need to save money (and make money too!). With that said, I've been riding the Ibotta train for a while now and I've already given a proper Ibotta review.
So, today I want to go into a few ways I believe you (and me, I might add) are losing money with Ibotta. Yep, seriously! We're losing money, but don't worry. Before the end of this article, you'll know all the strategies you need to know to stop losing money and take advantage of all the Ibotta bonuses I've discovered!
First, allow me to give a brief introduction on Ibotta for those of you who have never heard of it. Here's the low-down on how it works:
Select the store and unlock the Ibotta offers. Do this before you head to the store.
Go shopping and carefully review the offer to make sure you're purchasing the right thing.
Make your purchases and scan them into the app.
Take a picture of your receipt and wait for your cash back to be applied to your account. Once you redeem your first offer, you'll receive a $10 Ibotta welcome bonus!
Check out my full Ibotta review to learn how Ibotta here.
10 Ways You're Losing Money With Ibotta
1. You Aren't Even Using It!
Maybe you've already signed up, but the app is doing nothing but taking up valuable space on your phone. If you do any shopping at drugstores, grocery stores, or online retailers — you should be checking Ibotta before you shop!
You can earn cash-back in five broad categories on the Ibotta app — Traveling, Grocery, Beauty, Technology, Home and Gifts.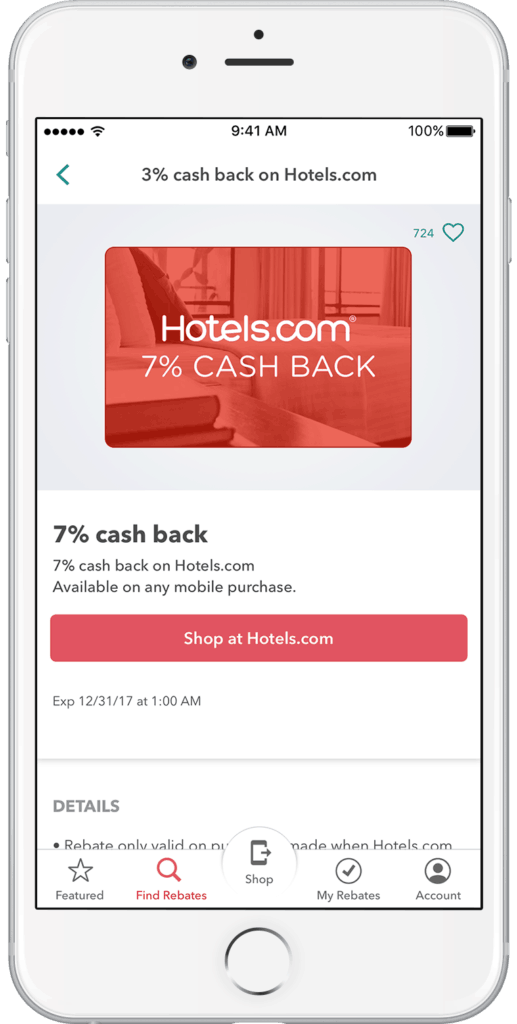 Traveling
Before planning your next trip, check Ibotta for deals on car rentals, flights, and hotel rooms. Simply start shopping by opening up your Ibotta app. You can expect to find deals from sites like:
Booking.com – book your next hotel, motel, or vacation home
CheapOair – book low-cost flights with this online travel agency
Hertz.com – online car rentals
HomeAway – search for vacation and short-term rental homes
Hotels.com – find some of the best hotel deals online
Groceries
Ibotta has just about every grocery store imaginable and products across all categories. Even if you can't find a cash-back offer on a product you're looking for, there are sometimes offers available for uploading your receipt.
Before shopping, just look for your store, add offers to your list, and scan a photo of your receipts to verify your purchase. Once your purchase is verified, your cash-back will be added to your account in 24 hours.
Here are all the stores listed on the app at this time:
Walmart
Target
Publix
Kroger
Ingles
Whole Foods Market
Lowes Foods
Sam's Club
Food Lion
Trader Joes
Cotsco
Dollar General
Family Dollar
Military Commissary
Dollar Tree
Bilo
Harvey's
Winn-Dixie
Amazon
Related Reading: How You and Your Family Can Eat Healthy on a Budget
Beauty and Fashion
In this category, you'll find some of your favorite online and offline retailers. You'll often find some additional Ibotta bonuses for these retailers, so be on the lookout. Here are a few of them:
Poshmark
Lane Bryant
Forever 21
Stitch Fee
Ulta Beauty
Technology, Home and Gifts
In the Technology, Home and Gift categories, you can save on some of your latest technology vices, home decor products, and gifts. Here are the retailers where Ibotta can help you save:
Bed Bath & Beyond
Best Buy
BigLots.com
Cost Plus World Market
Home Depot
Lowe's
Overstock
Sears.com
Target.com
Worldmarket.com
2. You Haven't Linked Your Store Loyalty Card
That's right! The second way you're losing money is not by linking your store loyalty card. Out of all the stores linked in the Ibotta app, quite a few of them work exclusively with Ibotta as a preferred partner. When you link your store loyalty card with Ibotta, you don't even have to scan your receipt when you shop.
To take advantage of this benefit, make sure you link your store loyalty card to Ibotta and do so 24 hours before you plan to go shopping. It's also important to note that in order to receive cash back, you still MUST select the offers in the Ibotta app before shopping.
Follow these easy steps to link your loyalty card to Ibotta:
Sign up for Ibotta here if you haven't already.
Look at this list to see if you shop at any of these preferred partners.
Once you've found a preferred partner you shop at, select verify purchases at the bottom of the screen.
Scan or enter your loyalty card number and you're all done!
At checkout, verify your purchases by scanning your loyalty card (or) the card on your phone, or by entering your phone number at the cash register. Loyalty card redemptions can take up to 48 hours to be processed.
3. You Ignore Ibotta Bonuses
Each month you'll find different Ibotta bonuses that you can take advantage of to boost your earnings. Many times the bonuses are linked to special events (think Super Bowl) or the holidays.
The Ibotta bonuses aren't small change either. Most recently, there was a bonus of $5 if you redeemed 5 offers before the bonus expiration date. Then there are teamwork bonuses you can earn as well (which we'll talk more about in a minute).
Not only that, sometimes there are individual offers that can be stacked with Ibotta bonuses too. For example, there may be a bonus offer for $1.00 when you redeem an offer for hummus on three trips.
At the same time, there may be an individual offer for .25 cents off any size hummus. Therefore, when you redeem the .25 cent offer on hummus, you earn .75 cents for a total of three shopping trips, plus the $1.00 bonus.
It's like double coupons! This is such an awesome and very easy way to earn extra money with Ibotta.
4. You Don't Share All The Great Ibotta Bonuses With Your Friends
Now, let's back it up to those teamwork bonuses I mentioned earlier. As I said, you can receive extra bonuses if you and your teamwork reach certain goals throughout the month. Who is on this team, you might ask?
Well, your friends! But if you're not sharing it with friends, how do you expect to earn those teamwork bonuses?
The way this works is you'll receive credit for your friend's shopping too. For example, to meet this month's level one team bonus, I need to redeem 8 offers. My team must earn $7.00. Once those goals are met, we'll receive a bonus. There are multiple levels which increases your potential earnings for the month.
I won't lie and say that reaching the bonus goals are always easy. It's especially hard if you only have one or two people on your team. To give you a leg up, you can join my team using this link.
Oh, and I almost forgot the most important thing — you get a $5 referral for every friend who redeems an offer. This is such an awesome way to make extra money with Ibotta.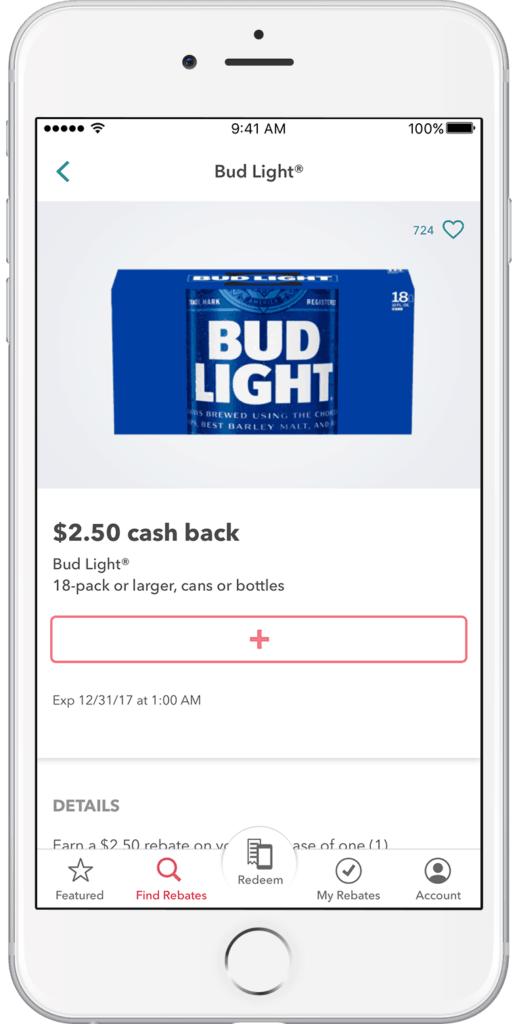 5. You Drink Without Checking Ibotta
Don't buy alcohol without checking Ibotta first. I bet you didn't even know that you can redeem Ibotta offers at ANY liquor store!
Yes, there are alcohol offers for just about all the grocery and drugstores listed in the Ibotta app. However, you can shop at your regular old Green's (or whatever they call your local liquor store) and save money too.
For example, right now there's a $4.00 cash back for Budweiser or Bud Light. There's also a $1.00 cash back offer for Casillero del Diablo wine.
Sometimes during special promotional seasons like Super Bowl, you may find combined offers on alcohol and snacks. I've even seen some for beer and meat. For example, there's currently a $3.00 cash back offer on Estrella Jlisco beer and a seafood item.
To redeem offers for any liquor store, make sure your receipt has the date of purchase, the product, and the total. Ibotta will not accept credit card receipts, so make sure the receipt is itemized for any liquor store purchases.
6. You Don't Shop The Dollar Tree
This one can be really hit or miss. Some areas have Dollar Stores that carry way more name brand items than others. However, at the Dollar Tree, most things are truly $1 or less, giving you an opportunity to MAKE money with Ibotta.
For example, there's currently a $2 cash back offer on sugar. If your Dollar Tree actually carries this brand, you'll actually make money on your purchase! There are also a lot of "Any brand" cash back offers.
So, if you don't actually have these money-maker brands at your local Dollar Tree, it's still worth it to use the Ibotta app and redeem the "Any brand" offers. You can save a few cents or more of a $1.00 purchase. Every little bit counts, right?
7. You Throw Away Your Receipts or Don't Get Them
Bummer. You spent money, didn't bring home a receipt and now you can't save money. That really sucks if you ask me, but it happens to the best of us.
Get ALL of your receipts and keep them in a special place. Even if you forget to check Ibotta before shopping, you still have 7 days after you make a purchase to unlock a rebate.
Yep, that's right! That means if you go to the store and later see something on Ibotta that you could have redeemed, you still have a narrow window of opportunity.
This is why it's so important to always get a receipt and to keep it in a safe place. From here on out, treat your receipts like cash!
8. You Don't Look Up Items When You Shop
I'll admit, I just discovered this (like two-years too late). You can scan items into the Ibotta app when you're shopping to see if there's a cashback offer available. Offers reset often and there may be a few Ibotta bonuses that you can maximize through the month too.
To do this, open up the Ibotta app and scroll to the bottom. You will see something that says find offers. Click on it and at the top, you will see a "search retailers & offers" bar. To the right-hand side, you will see a little scan barcode. Click on it and you can scan the item you're looking at in-store.
If the item pops up, there's a rebate. If nothing comes up, try a different product or make sure you've read the rebate descriptions to ensure you're picking up the correct item. There's nothing worse than thinking there's a rebate on something you purchased to later discover you needed multiple quantities or a different size to redeem the offer.
9. You're Not Using Ibotta on Mobile Shopping
Ibotta has a lot of cash back offers and Ibotta bonuses for mobile shopping too. Click on the mobile section to pull up all the current mobile offers. Many of them change, but some do not.
For example, as of writing this, there's a 10% cash back offer for 1800Flowers.com — just in time for Mother's Day. Another good offer that's on the app as of writing this is a free $20 Amazon gift card from Ibotta when you sign up for 1-yr of Amazon Prime.
10. You Buy Club Memberships With Ibotta
This one seriously blew my mind, but you can redeem a cashback offer to Sam's Membership. We all know that those memberships aren't cheap and if you're one who absolutely needs Sams, you're leaving money on the table.
The current cashback offers as of writing this is $10 for a new Sam's Club Membership. Plus, you can use Ibotta to redeem offers on products you purchase there as well. Take advantage of the savings and start using Ibotta today.
Put these Ibotta Bonuses to Use Starting Today!
As you can see, there's so much more to Ibotta than what meets the eye. There are so many Ibotta bonuses, and if you use the app right, you could actually make money. Who would have thought?
Ibotta is hands down one of my favorite money-saving and money-making apps. So far, I've earned a little over $1,000 from Ibotta. If you sign up using my link, you'll receive your $10 Ibotta Welcome Bonus after redeeming your first Ibotta offer (And hint…I heard you can earn up to a $20 welcome bonus at the moment, so hurry and start saving!)
Sign up here to receive Ibotta Bonuses today.