Save extra money on groceries without coupons using these 11 easy money-saving tips.
Spending money on groceries can easily become a huge, budget-busting expense. If you're not careful, you can look back at your expenses for the month and realize that you overspent in this category.
I'm always looking for creative ideas and money-saving tips that will help me save extra money on groceries. However, I just don't like the haggle of dealing with coupons. Some of you may feel the same way.
I used to coupon, but after I discovered Aldi, it quickly became rather pointless. But I know there are a lot of you who may not have access to Aldi, so I'm going to share some ways you can save extra money on groceries without them. And without the coupons.
However, I first want to start with the very basics of saving on your grocery bill – meal planning. No matter how hard I try, if I fail to create a meal plan, I will spend more money than I budgeted for.
Creating a meal plan helps you strategically put together meals that maximize your efficiency and your dollar. For instance, I like to buy the biggest pack of hamburger meat (usually around 3 to 5 pounds) because it's cheaper.
That one package of hamburger meat will usually create three different meals for my family. You could make tacos, vegetable soup, and spaghetti if you ration that meat out just right. So, first create a meal plan and then use these tips to further maximize your grocery budget.
Here's a free 2-week meal plan to help you get started.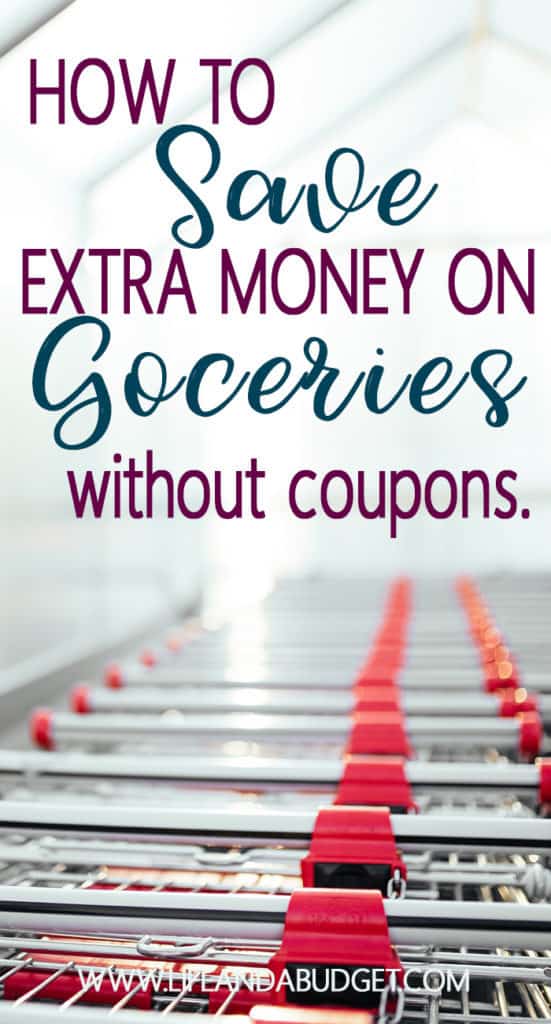 11 Ways to Save Extra Money On Groceries Without Coupons
1) Switch out soda, kool-aid, juice, and milk for a glass of fruit infused water.
My kids already know that juice is a special treat. I don't buy juice. I only buy milk because of my one-year-old. Other than that, we drink good ole fashion tap water. Not only did my grocery bill go down, but my waistline started sending its praises.
2) Buy or order your meat in bulk.
As I previously mentioned, I like to buy my meat in bulk. If there isn't a good sale in the grocery store, there's always the option of ordering from Zaycon Fresh. It will come straight from the farm and the savings will be significant. Learn more about Zaycon Fresh here.
3) Use less meat in your dish.
Again, I will stretch out three lbs of ground meat over several meals and we still have enough for leftovers after each meal.  Contrary to popular belief, you don't have to eat a bunch of protein to get full. A well-balanced meal should include a hand-sized portion of meat and plenty of veggies.
4) Use savings apps.
I have quite a few that I use, the first one is Ibotta. When you first sign up with Ibotta, you'll get $10 for the first rebate you redeem. You can cash out to your Paypal account at $20. Sign up for Ibotta here.
If you're feeling extra fancy, go shop for some of your produce at Target. Yes, Target!
In addition to using the Ibotta app for your Target purchase, use the Target cartwheel app to maximize your savings. Also, check to make sure there aren't any Target coupons that you can receive via text.
Then top it all off by pulling out your Target Redcard. Save an extra 5 percent by doing that. So, in all, by shopping for some of your groceries at Target, you can use Ibotta, Target Cartwheel, Target digital coupons and the Target Redcard.
If you don't have the Target Redcard, sign up here!
6) Serve simple meals to save extra money on groceries.
This seems like a no-brainer but it seems like the internet has turned everyone into some very good chefs (myself included ?).
My grocery bill started spinning out of control when I tried to keep up with the latest recipe to hit the webs that required ingredients I've never heard of.
When I was growing up, week-day meals were simple: meat, starch, and vegetables. Cut back even further and simply choose a meat and vegetable.
Stick with the basics…tacos, cubed steak/rice/peas, chicken/corn-on-the-cob/green beans. Your sanity will thank you. So will your wallet.
7) Stock up when things are cheap and not when you need it.
One day I walked into Aldi and sliced bread was ten-cent. You best believe I came up out of there with enough bread to make my husband look at me sideways. I put them in the freezer until it was time to use them.
The sad part about it is, that bread was gone within 2 weeks. That's just how much bread my family eats. So anytime I see rock bottom prices, I try to get as much as possible to last me until the next time I'm likely to find a sale again.
8) Think beyond the grocery store.
Drug stores have good prices on grocery items too. With the store sales, any in-store coupons or points you may have on your rewards card – you can get rock bottom prices on stuff like condiments, baking items, spices, and breakfast items.
9) Chop your own veggies/fruit/and meat.
More than likely, you will always pay more for already prepped fruits, veggies, and meats. It may take a little extra time, but I've found it to be worth it to chop my own stuff up. Invest in a good food processor if you eat a lot of fresh veggies.
10) LEAVE THE KIDS AT HOME.
Sorry, I didn't mean to shout, but look here… I always spend more money when my little ones are with me. They are distracting!
I can't do my calculations and sometimes I put two of the same thing in the cart! They simply drive me nuts at the grocery store.
Not only that, my littlest always finds a way to be hungry when we pass the donuts or watermelon. This results in a meltdown and of course a bag of donuts (some for him, but mostly for me and my troubles).
11) Always shop with your grocery list to save extra money on groceries.
This brings us to the final way to save money on groceries ― shop with a list in hand.
Never commit your meal plan to memory. You will forget something! Even worse, you may end up buying something you already had at home.
Create a list based on what you already have in your pantry and what you need to create the meals on your meal plan.
Bonus Tip: Keep Your Meal Plans and Grocery Lists
Purchase a cute notebook or meal planning pad to keep your meal plans and the corresponding grocery list. This way you can recycle your meal plans and already have the grocery list prepared.
When you decide to reuse a meal plan, simply check your pantry and fridge for ingredients you may already have and make sure to check them on your list.
This will save you a lot of time because you don't always have to create a new plan before shopping.
Wrapping Thangs Up
These strategies work! Hands down, I've tried it all when it comes to saving money on the grocery bill. It can be downright frustrating going to the grocery store and feeling like you brought nothing at all.
The only remedy to that problem is to create a plan and stick to it. Use some of these strategies, money-saving apps, and don't forget to take your list with you to the store!
Once you've done this a few times, you'll begin to see your efforts pay off. Then you'll be wondering why you didn't get started earlier. Happy savings!
Do you currently use some of the strategies outlined above to save extra money on groceries?