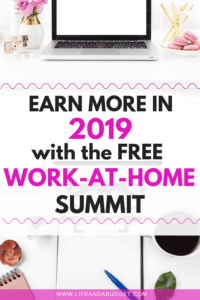 The Work at Home Summit is something you should know about if you've ever considered working at home. I've worked from home for the last ten years and I can tell you that none of it is easy, but it's very much possible.
Out of those ten years, nine of them were spent telecommuting for a major insurance company. For the last year, I've been self-employed.
Nothing about working at home is glamorous, but I appreciate the freedom it allows me to be at home for my kids and maybe you need that flexibility too.
Or maybe you're just sick of having a boss micromanaging you every day and you're ready to strike out on your own.
While I can share a bunch of thoughts on both working for yourself and working for a major corporation, I believe the Work at Home Summit is the perfect resource to share with you to make sure you learn everything you should know before embarking on this journey.
The Work at Home Summit Will Enlighten You To The Challenges Ahead
As I mentioned before, working from home is not easy. In fact, it's not for everyone.
The biggest challenge you will face is being productive at home. Seriously, it's hard to work from home when you see the laundry piling up in the corner of your office. Or if your dog is barking at your door to be let out. Or the mailman. Or your neighbor — seriously, the distractions are endless.
If you're not telecommuting for a company, another challenge you'll face is choosing what type of work you want to do from home. And then, as if that isn't enough —  once you figure out what to do, you'll struggle with finding legitimate work at home opportunities that aren't a bunch of scams.
Fortunately, all of these challenges you'll face are things that are addressed in the FREE Work at Home Summit, created by Caitlin Pyle. Caitlin is the creator of the popular general proofreading course, which she created after turning her own work from home efforts as a proofreader into a million dollar business.
What Opportunities The Work at Home Summit Can Prepare You For
Work from home opportunities is steadily increasing every year. Even employers are jumping on the bandwagon by offering flex and telecommuting opportunities. When I was employed, I worked as an insurance claims examiner. Now that I'm self-employed, I'm a writer.
Here are a few work-at-home job opportunities that are increasingly expanding:
Blogger
Freelance Proofreader
Freelance writing
Virtual Assistant
Retail Arbitrage
Transcription
Social Media Manager
Facebook Ads Manager
Digital Marketer
Graphic Designer
Popular work at home positions offered by companies includes payroll, administrative assistance, bookkeeping, accounting, content management, data entry, and more.
So, How Can I Get Started Earning Money From Home
The first thing you should do is consider whether you want to work at home for yourself or for someone else. Many of the work at home opportunities you pursue working for yourself will be independent contract/freelance work.
You can start by doing an internet search of work at home opportunities, but it's often hard to determine what's legit or not. And if you do find a legit opportunity, you may not even know where to begin.
Fortunately, the Work at Home Summit can prepare you for all of this. You'll learn about the amazing opportunities available and you'll learn keys to successfully landing your work at home position.
What You'll Learn From The Work at Home Summit
Here are some of the amazing lessons the Work at Home Summit has to offer:
How to land your first work-at-home client
How to transition away from your 9 to 5
How to decide what to charge
Easy tips on handling your taxes and insurance
How to get paid and collect your money
How to build your expert status as the go-to person in your field
Lessons on the following skillsets:
Virtual Assistance
Affiliate Marketing
Selling books on Amazon
Web development
Self-publishing
Transcription
Blogging
Content marketing
Scoping
And much more…
Sign Up For The Free Work at Home Summit Today!
As you can see, this free summit has a lot to offer anyone who wants to learn more about working from home. If you don't know where to start and you're sick of sorting through all of the junk and scams, sign up for the Work at Home Summit.
Other Work at Home Articles You May Enjoy:
Free Online Courses for The Best Side Hustles in 2019
The Top 13 Side Gigs to Make Extra Money in 2019
Make Money at Home: Become a Freelance Proofreader
7 Incredible Ways to Make an Extra $600 Fast!
How I Made Over $7,000 From Online Side Hustles This Year
How To Earn Passive Income on Etsy
Make Extra Money With a Home Based Laundry Business
Make Money Blogging: 7 Ways to Earn More With Your Blog
Make Money Writing: How to Become a Freelance Writer
Earn Extra Cash: 21+ Ways to Add $150 to Your Budget
9+ Best Survey Sites to Join for Extra Money