This post may contain affiliate links. See disclosure policy
here
.
So, you want to know how to earn more money, huh? Maybe you want to tackle your student loans by blogging away your debt (like me) or perhaps you want to diversify your income so you're not dependent on your full-time job for money.
Regardless of your motive, it sounds simple. In the grand scheme of things, it very well can be. Sometimes I think we make earning additional money harder than it has to be. All you have to do is make a decision and act on it. You can't worry about whether it's the right decision or not because I'm here to tell ya, failure will eventually lead to success if you keep trying.  
Whether your decision is the right one or not doesn't even matter because if you're acting on something and learning from the failures as much as the successes you're on your way to achieving your end goal. Considering you clicked on, How to Earn More Money by yours truly, it's safe to say your end goal today is extra cash.
Lately, I've elaborated on complex topics such as creating a budget that allows for you to actually have a life, building an emergency fund, and how to not screw your credit up; however, I haven't delved much into the topic of how you can earn more money to help you get closer to whatever goals you might have.
Let's look at it from a broad scope for a moment. You can either earn extra money on your job through overtime, work for a promotion, bonuses etc. Or, you can earn extra money by creating a side hustle that is suitable to the skills and knowledge you possess. Today we're going to talk about the ladder — side hustling.
---
Do you want to start a blog of your own? If so, I've created a DETAILED tutorial to help you start a blog for cheap. Rates begin at $3.49 per month if you use this link. You will also receive a free website domain (your very own web address), a $15.00 value, for FREE if you purchase using my Bluehost link and purchase at least 12 months of web hosting. Being self-hosted is the business if you're thinking of taking your blog and/or business to the next level. My freelance business is doing alright if I say so myself;)
---
How To Earn More Money
(If you haven't read my review on Hustle Away Debt, I need you to click over real fast, read the post, order the book if hustling is a foreign topic to you, and then come back. Don't worry, I ain't going nowhere.)
I'm not going to hold your hand by providing some step-by-step instructions on how to earn more money because you don't need it. Most of you know what to do, you're just not doing it because you have chosen not to do anything about your situation.
So let's forget about a bunch of steps because there are only two critical things of importance when it comes to earning more money. For those of you who really want to make some changes, you'll do these next two things. Thing one and thing two are:  make a darn decision and get to acting on it. (Life-shattering, I know.)
Make a decision
Making your decision shouldn't be hard. I want you to take a piece of paper (yes, right now) and draw a line down the middle. On the left side, list all the things you are good at that you are willing to do to earn more money. On the right side, list all the things you'd rather die before doing for extra money.
Hopefully, the left side has more scribbles than the right side. If it doesn't, might I suggest losing some of that pride? Seriously. If you need to earn extra income, finding a part-time job or selling some of your beloved purses (or video games, dudes) should not be something you would rather die over.
Act on it
Tear the left side of the paper that includes all the things you're good at and willing to do to earn your extra dough. Throw your right side (pride) in the trash and focus on what you're good at.
Pick one of the items on your list and just do it! Create a plan and execute it. If you fail, try something else. Think about what didn't work and move on to the next action item or create a new plan for the same action item.
See, it really is that simple. Yet some of you won't believe me. That's cool though because you need to get your money mindset together before you'll progress on your financial journey, anyway.
---
If you've never considered signing up for surveys, I think you will find it easy to earn a few extra bucks just for answering questions. There are reputable survey sights, you know!
Try some of these:
Harris Poll Online – You will earn points for every survey you take and you even earn for surveys you aren't qualified for. Once you've accumulated enough points, simply redeem! Sign up for Harris Poll Online here!
American Consumer Opinion – This company is another reputable company that allows you to earn for every survey you take. The more surveys you take, the more you earn. Don't think you have time? Take them while you binge watch Netflix. No excuses. Sign up for American Consumer Opinion here.
Swagbucks – Get your swag on with Swagbucks. I've probably been with this site the longest and you can earn swagbucks many different ways. You can earn by taking surveys, watching videos, doing internet searches, and finding swag codes. Redeem your swagbucks for gift cards and thangs. Sign up for Swagbucks here.
Vindale Research – I've been sleeping on this company and I've got to get with it, but their payouts are AWESOME! Earn up to $100 on some surveys if you're lucky. $5, $10, $15 wouldn't hurt either. Of course, once you earn enough you redeem for rewards. Sign up for Vindale Research here.
Opinion Outpost – Opinion Outpost is very straightforward. You take surveys and you earn points. Once you've reached a certain amount of points, you can redeem those for cash paid out via PayPal or gift cards from Amazon and other vendors.Sign up for Opinion Outpost here. 
---
In Conclusion
This is how you earn more money — it's not magic. If you're good at sewing, hem some dresses. If you're good at blowing up balloons, be the balloon man at the next neighborhood birthday shindig. Perhaps the only thing you may feel comfortable doing is getting a part-time job at your local retailer. If that's the case, just do it!
I'm not trying to be snide or anything, I'm really just keeping it real about how simple it can be if you're dedicated to finding a solution to your problem. Get out of your own way and focus on what you can do. If all you think about is your debt or how you're not going to be able to pay the power bill next week, you won't see past it. Instead, think of what you're willing and capable of doing to solve your problem.
Other articles you may enjoy: 7 Free Online Survey Companies to Join for Extra Cash and Make Money From Home Using Amazon FBA.
For all of you side-hustlers out there, what all have you been willing to do to earn more money?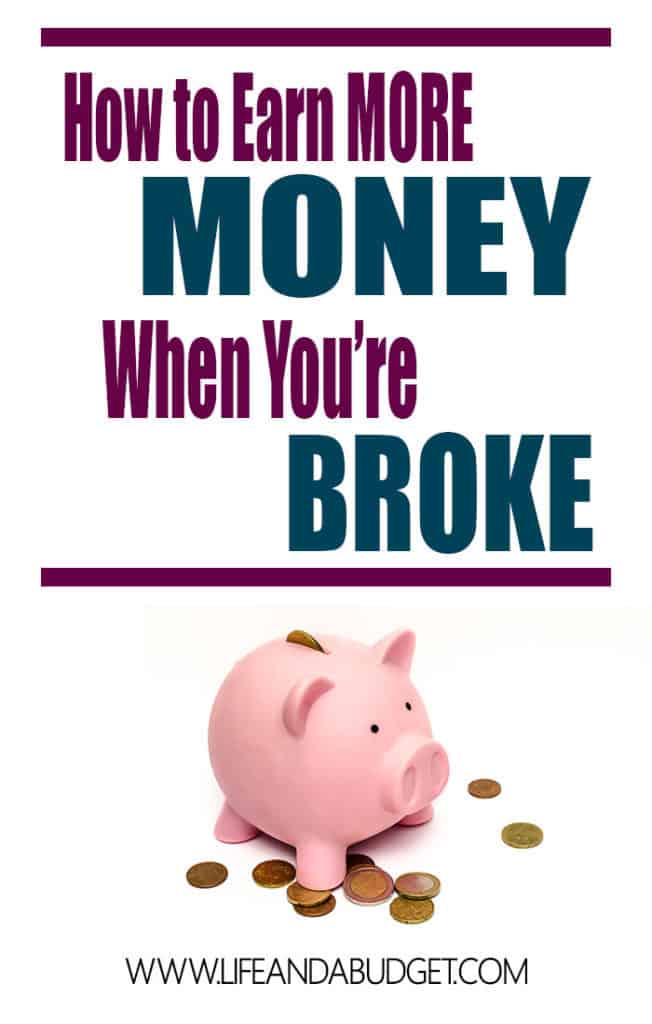 For those of you who just don't feel like doing any thinking at the moment, I want to help you out because trust me; I know all too well how the brain doesn't want to cooperate at times.
I've come up with a list of 7 actions you can take so you can begin earning more money by the end of the week!  (Now please note, there are no guarantees. If you're not willing to ACT on anything, you won't earn a dime. But if you're ready to do something, you'll do just fine!)
Drop your email in the subscription box below and get your free copy of 7 Actions to Jumpstart Your Side-Hustle today!