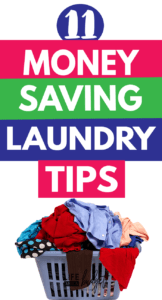 Good clothing isn't cheap and once you add in laundry costs, it may seem like money is just floating down the drain. Fortunately, it's easy to keep your laundry costs down.
You don't have to run down the laundry aisle with a buggy, eagerly ready to spend all your money. As a matter of fact, I have more than a few laundry tips that I believe will help you save money.
Once you learn how to take care of your clothes properly (even while saving a buck or two), you'll get more wear out of your clothes and fatten up your bank account too.
11 Laundry Tips to Help You Save Money on Laundry
Laundry Tip: Make your own laundry detergent
The best laundry detergents don't come cheap. Tide W/ Bleach (Good Housekeeping's best-rated detergent) will run you around 45 cents in costs per load. But guess what?
I never by name brand laundry detergents. The generic store brands work just as good! For example, Target's Up & Up detergent will clean 64 loads of laundry at just 11 cents per load.
If you want to further reduce your laundry costs, you can make your own laundry detergent too. Each time I make a batch, it usually costs me a little less than $25 and a batch will last me for six months.
Here's the recipe I follow to save money on laundry detergent:
1 4 lb box of Super Washing soda
3 bars of shredded laundry soap
Mix all the ingredients together and store in an airtight container. Use 2 tablespoons per load and your clothes will come out nice, fresh, and clean!
Reduce laundry detergent cost per load by using less detergent
On the same note, you can save money on laundry by reducing how much laundry detergent you use.
If you're short on time, diy laundry detergent might not be feasible. But you can make your store bought laundry detergent last longer.
Laundry detergent comes with general instruction and lines in the caps or cups included with them. I always use half of the recommended amount for each load.  Your laundry will come out just as clean.
Laundry Tip: Skip the fabric softener
Fabric softener can cause build-up that needs to be stripped with baking soda and vinegar every so often. Instead, grab a bottle of white vinegar in lieu of fabric softener.
A ¼ of a cup should be enough to get the job done and your clothes will come out fresh and soft. Not too bad for an ingredient that costs $1 at your local dollar store.
But if you must use fabric softener, there's still a way to save money. If you don't use Ibotta, download the app today and keep an eye out for cash back rebates and bonuses on laundry detergent and fabric softener.
Use cold water
This is one of the easiest laundry tips I can give you — use cold water! It costs money to heat water. The only time you really need to use hot water is for heavily soiled or stained clothes.
Wash using full loads
Fill your machine up to help you save money on your laundry. When you wash small loads, you're throwing away money. I'll even admit a dirty little secret of mine — I mix colors.
Gasp! Now, why on earth would I do that?
Because I don't have a bunch of whites clothes. I'm not going to waste money to wash socks, undies, and t-shirts separately when I have a small load.
This is also another great reason to wash using cold water. I don't have to worry about colors bleeding onto my white clothes in cold water. Now, of course, if I have a pair of extremely dark denim jeans, I'll make an exception.
Wash clothes during off-peak hours
There are times of day when everyone is washing clothes and that's usually at times when folks are off from work. Your electric company charges more when you wash clothes when everyone else is. Be a little weird and wash your clothes during off-peak hours (before 4 pm and after 7 pm) to help save money on laundry.
Wash on shorter cycles
If you do your laundry using shorter wash cycles, you'll be gentle on your clothes and your washing machine.  Plus, you'll save on energy and water costs too.
Remove dryer lint and keep your external vents clean
If there are obstructions in any of the vents, you'll trap in moist air. When this air gets trapped, you'll keep going to the dryer to see if your clothes are dry and guess what? They won't be.
Make sure you keep the lint tray free of lint and check the outside vent flap to make sure there is nothing stuck in it. This will help reduce the amount of time needed for your clothes to completely dry.
Use dryer balls and essential oils
Instead of purchasing dryer sheets, purchase wool dryer balls to throw in the dryer. You can use them over and over again. If you want scent, try adding a few essential oils to the dryer balls.
Laundry Tip: Hang your clothes
Another great way to save on drying costs is to hang your clothes instead. This laundry tip is two-fold though.
Not only will you save money on your energy costs, you'll also extend the life of your clothes. Cheers to no more shrinking!
If you don't have an area to dry your clothes outside, no worries!  Try using an indoor hanging rack instead.
If you have a washer and dryer already, you can save even more money by making sure your appliances are energy efficient.
And if you don't already have your own laundry appliances, consider creating an automatic savings plan to purchase a set for your own home. You'll save on all the money you've been spending at the laundromat.
(Hint) The cheapest way to do laundry at a laundromat, use cold water and separate clothing as much as you can. Wash colors that won't bleed onto whites and use the appropriate tools when washing.
Wrapping Thangs Up
So, here's a brief recap of the best laundry tips to help you save money:
Make your own laundry detergent.
Use less laundry detergent.
Skip the fabric softener.
Use cold water.
Wash full loads.
Do laundry during off-peak hours.
Wash on shorter cycles.
Clean the lint vent and external vents.
Use dryer balls with a little essential oil.
Hang your clothes.
Use energy efficient laundry appliances and/or save for your own appliances.
What other laundry tips can help you reduce laundry costs? Weigh in below.