To support this website, this post may contain affiliate and/or referral links to products or services I recommend. See disclosure policy
here
.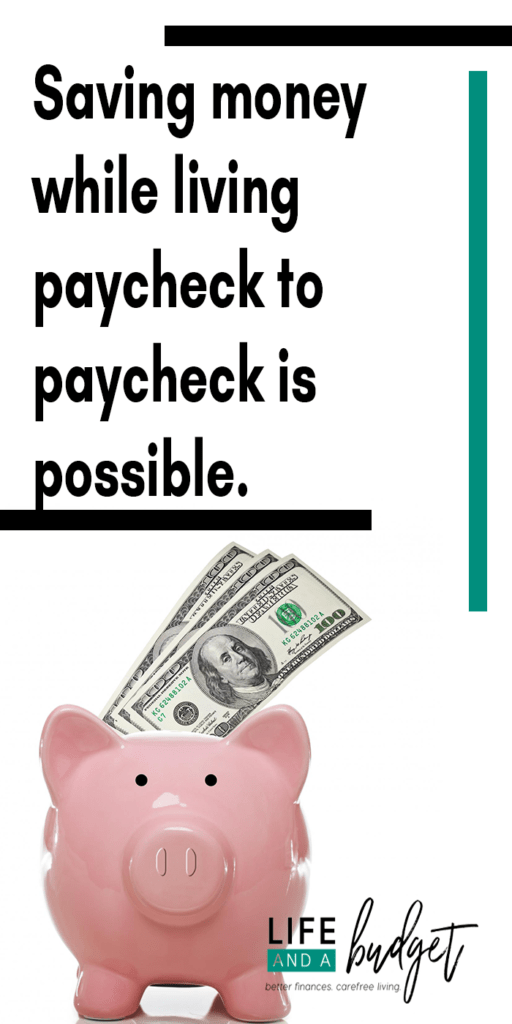 Living paycheck to paycheck is no fun. Trying to save while living paycheck to paycheck is no walk in the park either. But yet, the only way to defeat living in this abusive cycle is to get ahead to the best of your ability.
This is why it's so incredibly important to take the first step and save your first dollar. Saving while living paycheck to paycheck shouldn't be optional. It's a given if you truly want to overcome it.
I've been listening to the people (you) and one of my most popular articles here at LAAB is How to Get a Month Ahead on Little Income. In this article, I've given you an example of how Terri was able to get a month ahead, despite having little income.
Today I want to provide more helpful ways on how you can save money while living paycheck to paycheck. I understand this is no easy task, but again, this isn't optional!  Start small and take baby steps. Before you know it you'll be ahead and living paycheck to paycheck will be a thing of yesterday.
Budgeting
There is no way around budgeting!  If you want to get your finances together, save more money, and overcome paycheck to paycheck living, it all starts with having a plan for your money. However, before you create your plan, you need to know what you're spending your money on.
Further Reading: How to Create a Simple, Easy Budget for Beginners
If you've never tracked expenses before, this is where you need to start. Tracking your expenses allows you to get an overall picture of your spending habits. It will help you learn what you need to cut back on and will tell you where you may actually need to spend more money.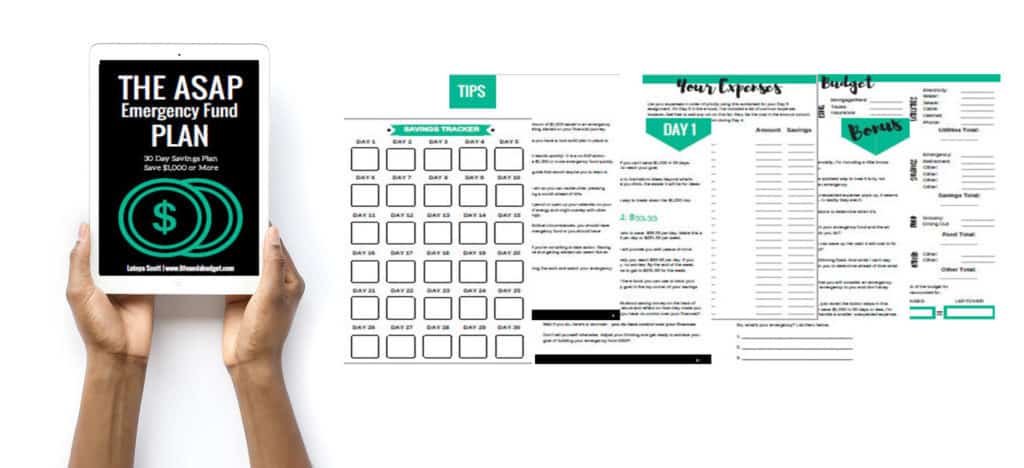 Create a Savings Goal
Once you've tracked your expenses and created a budget, now it's time to determine your savings goal. Let's focus on one important savings goal that will help you defeat a paycheck to paycheck lifestyle – an emergency fund.
If you're currently in debt, set a minimum savings goal of $1,000. I elected to save a minimum of $3,500. It's best to have emergency savings to maintain a bare-bones budget in the event of a medical emergency or job loss.
So if your savings goal is $1,000, you simply need to divide this by the number of paychecks you will receive during any given timeframe.
Let's say your goal is to save $1,000 in a year and you're paid bi-weekly. Divide $1,000 by 26 (number of paychecks) and you will need to save roughly $40 per pay period.
Further Reading: Emergency Funds 101
Open an Online Savings Account
Why an online savings account? Discipline.
Many of us lack the discipline needed to keep our little fingers out of our emergency fund. See a sale at Macy's this weekend on kid's clothes and all of a sudden you think you've got yourself an emergency. Nah. Hands off, friends!
I like to keep my emergency fund with Capital One 360.
The interest rates are competitive and it takes 2 to 3 business days to transfer it to my checking account. By the time 2 to 3 days pass, the Macy's emergency sale is long over and my money is still intact.
If looking for an account with no fees and one that rewards you for saving, I recommend Chime. With Chime, you will have your own spending account and savings account!
Also, if you sign up for auto-save, anytime you spend money, your purchases will be rounded up and you can save money. Plus, if you sign up for direct deposit, you will get your paycheck 2 days early! Learn more about the benefits of using Chime here.
Related Reading: 11 Things to Sell to Make Extra Money, 12 Ways to Build Your Emergency Savings Fast
Set up Automatic Deposit
After you've opened up your account with Capital One 360, get the routing and account number. Use these numbers to set up auto deposits from your paycheck. 
Even if you can't afford the amount required to meet whatever goal you have for yourself, setting up an auto-deposit of $5 is better than saving nothing at all.
Once your auto deposit is set up, create a goal in your new savings account and it will applaud you when you reach certain milestones (50 percent of goal saved, etc).
Related Reading: Automated Savings Challenge: Save $1,000 or More
Accelerate Your Savings
Now, if you can only afford the $5.00 a month, you can always accelerate your savings by hustling for some extra cash. Everyone can hustle for more money and get to their savings goals quicker. Here's what you gotta do…
1) Take surveys.
Stop whining, they aren't that bad and there are a lot of reputable companies that will pay you.
Here are a few to consider: American Consumer Panel, Vindale Research, Pinecone Research, Swagbucks, Earning Station, MyPoints, Opinion Outpost, and Digital Voice, Product Report Card, Clear Voice,  VIP Voice,  Shop Tracker, and Harris Poll Online.
Note: If these companies pay out in the form of gift cards, simply use the gift card to purchase normal household items you would normally buy and put the cash you would spend into your savings account.
2) Save money grocery shopping using Ibotta.
I've written a detailed review here if you want to read it, but the short story is you can save on items like bread, milk, and eggs. Just unlock the rebates on the Ibotta app and save. Plus, if you're a new user, you can score a $10.00 just for trying the app using this link.
Once you reach $20, you can cash out using PayPal or via gift card.
3)  No Spend Days.
Each week, designate a few days where you will spend no money. No dining out, no nothing!  It doesn't matter if you have money in the budget for eating out.
If eating out falls on one of your designated no spend days, don't go!  
Find something in the house to eat and take the money you would have spent on dining out and put that cash into your savings account. Don't cry, there's always next week:)
4)   Meal Plan.  
Ain't gonna lie, I hate grocery shopping and I hate meal planning. However, they are two necessary evils.
You have to eat and meal planning helps you stay in control of that wallet. I like to create master meal plans and grocery lists (list and plans that I can reuse over and over without recreating a meal plan each week) to save on time.
Related Reading: How to Break an Eating Out Habit, 11 Easy Ways to Save Money on Groceries Without Coupons
5)   Get some new insurance.
If you've been with that local auto insurance dealer for the last 6 years, don't you think it's time to do a little shopping around? A lot can change in 6 years!  
Folks earn points back toward their license. Driving records improve. You get older and insurance rates change right along with your age. Insurance companies reward older and wiser drivers.
A good tool to use to use is Policy Genius. You can get great competitive quotes and lower your insurance today, so check them out!
6)  Call and negotiate better deals or rates on subscriptions or monthly bills.  
I'll do you one even better – cancel some of those subscriptions. For example, cable! Cable is so 90's.
Yeah, I said it (lol). Seriously, we've been without cable for 5 years and you won't miss it and your bank account will smile.  
Besides, it's only temporary until you get your finances in order. If you're an OWN, Showtime, or sports fan, life will carry on.  (And for all of you Power fanatics, did you know that you can get a Showtime subscription if you're an Amazon Prime subscriber?)
If you're interested in ending your relationship with Time Warner Cable, Comcast, or whoever, you do still have options for entertainment.
You can use the following to keep up with the good stuff on television: a digital antenna, an Amazon Firestick, and a Roku device. Once you've scored those devices, subscribe to Hulu and Netflix and you're all set.
If you subscribe to Amazon Prime, you can forgo Netflix altogether (since they are practically the same thing). That is unless you're an Orange is The New Black junkie like your's truly (and I'm still grieving last season's finale, so no, let's not talk about it).
Try Amazon Prime 30-Day Free Trial
Further Reading: 12 Ways to Trick Yourself Into Saving More Money
Wrapping
Thangs
Up
Punching the paycheck to paycheck cycle in the throat won't be easy, but dang it, it's possible and you're going to get through this!  Just follow the steps above and get ready to see the magic happen.
Your budget is going to tell you where to send your money. Your savings goal is going to give you a vision and your new savings account is going to hold all of your paper.
Accelerate your savings goals using some of the tactics mentioned and get ready to enjoy what it feels like to finally get ahead financially.
All of my month ahead folks, any sound wisdom to offer on saving while living paycheck to paycheck? If so, drop some knowledge in the comments.